Horseshoe Falls At Niagara Illuminated Red Blue Lights
Niagara Falls and specifically Horseshoe Falls lit up at night with red and blue lights dazzles crowds of visitors.
Horseshoe Falls, also known as the Canadian Falls, is a part of Niagara Falls that gets bathed in glow of spotlights nightly.
Several colors cycle through and occasionally red and blue intermingle to illuminate this massive waterfalls with the warm glow of darker colors.
Horseshoe Falls gets its name from the horseshoe shape of curve that it makes at its crest.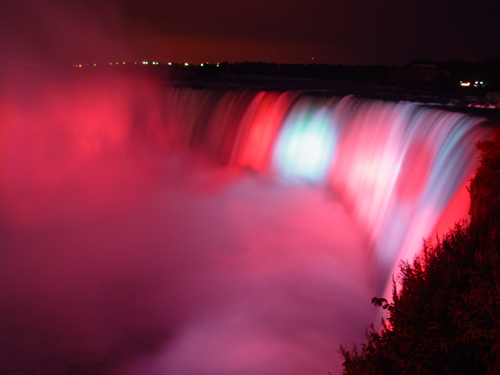 All Photo Galleries » Niagara Falls Pictures
At the point of where the water falls it is 3 meters deep and flows over at a rate of about 20 mph. 90 percent of the water that goes over Niagara Falls goes over the Canadian Falls making it the most impressive.
The height of Horseshoe Falls is 173 feet while the water at the base of the fall is 184 feet deep making it deeper than it is tall.
These facts alone make this waterfall one of the most well known but add a little lighting at night and you have yourself quite a spectacle!