Niagara Falls Canada Night Lighting Purple Aqua
Niagara Falls on the Canadian side is breathtaking but even more so is at night when they light it up with beautiful colors as shown here in purple and aqua.
Niagara Falls is best from the Ontario, Canada side by far but many may not know that the falls are lit up at night in several beautiful colors.
Over the course of a few hours Niagara Falls changes colors on a spectrum of the rainbow and pictured here is purple and aqua.
Surprisingly, the lighting of the falls was started back in the late 1800s and continues to this day...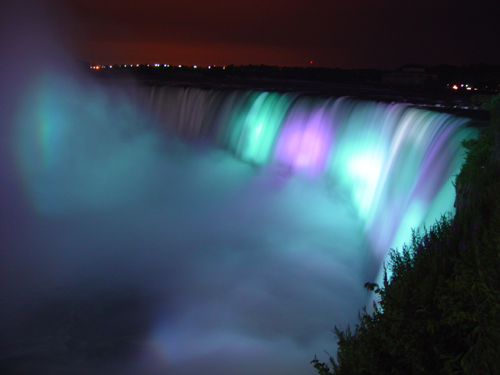 All Photo Galleries » Niagara Falls Pictures
with major upgrades added to the Illumination Tower in 1997 and 1998.
Niagara Falls are illuminated nightly at least until 10 pm from January to April and until midnight the rest of the year.
So while visiting the park, make sure to stay until dark to see this delight to the eyes in all its wonder.