Niagara Falls Ontario Canada
Niagara Falls in Ontario, Canada is a sight to see. It's not that it's the highest of waterfalls but it's certainly one of the most powerful.
The view of Niagara Falls is best in Ontario, Canada and what a sight it is to see.
It's not that it boasts itself as the highest waterfall but definitely can challenge for one of the most powerful. In high flow, more than six million cubic feet of water falls over the edge every minute and almost 4 million cubic feet on average.
Niagara Falls is divided into Horseshoe Falls on the Canadian side and...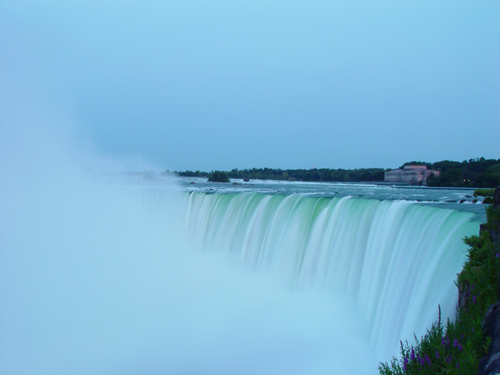 All Photo Galleries » Niagara Falls Pictures
...the American Falls on the United States' side.
This image is from the view of Table Rock which is observation site that also caters to tourists in Ontario.
Table Rock is named from the jagged edge that used to protrude over the shoreline that began crumbling since the 1800's and with a major collapse in 1850. At the time of the collapse a man washing his carriage narrowly escaped death but lost his carriage when it fell over with the rest of the platform and was destroyed.