Sunglow Pier Night Stars Daytona Beach Florida
The Sunglow Pier is lit up just after dusk with twinkling stars and a deep blue sky in Daytona Beach, Florida.
The Sunglow Pier comes to life after the sun goes down with a deep blue sky and neon lights in Daytona Beach, Florida.
Among some of the things to do in Daytona can be to stop by the Sunglow Pier for a bite at Crabby Joe's Restaurant and fishing on the end of the pier.
Nights on the east coast of Florida are nice and warm with beach weather clearing the skies on several nights enough to see the beautiful stars.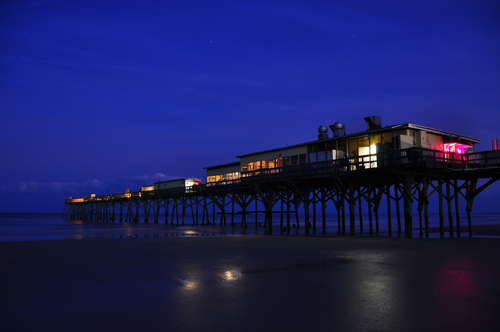 All Photo Galleries » Daytona Beach Pictures
There's also a very popular Sunglow Pier live webcam that gives surfers up to date info on the surf report.
Surfers can be seen all throughout the day near the pier with morning and afternoon being more popular.
This is just one of many popular vacation spots throughout the Daytona Beach area.