Daytona Beach Shore Hotels Condos Night
The Daytona Beach shore can be beautiful at night with the tide coming in and out and the lights of the hotels and condos glowing down the shoreline.
The Daytona Beach shore is extremly long and goes on as far as the eye can see as seen in the photo below.
Along the coast, hotels and condos in Daytona dot the shoreline with their lights and out in the ocean, fishing boats glow from afar.
If you go to the beach at night in Daytona, you'll see life all around from birds quietly staying to themselves and people walking down the beach.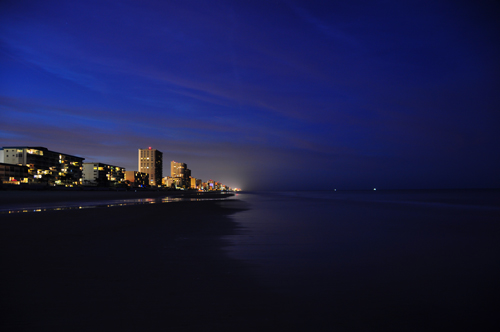 All Photo Galleries » Daytona Beach Pictures
Just after dusk, the sky is a deep, dark blue with some streaming clouds barely visible that disappears out into the dark abyss of the ocean.
Sometimes the tide comes in and the sea water gets trapped into long pools of water as you can see on the left.
Walking down the beach at night is a peaceful and serene experience that triggers all of the senses of sight, smell and touch.