Daytona Beach Main Street Pier Sunrise
On cloudy days, a sunrise at the Daytona Beach Main Street Pier in Florida might look like this with pretty pink colors and a hidden sun behind the clouds.
A sunrise at the Daytona Beach Main St. pier might look different each day as the weather can create bold, beautiful colors or light pink ones like seen here.
It's early and not many people are out, but if you get a chance to wake up and go out to see a sunrise in Daytona Beach, on the majority they are all worth it.
As some of my other photos show, Daytona Beach has a wide variety of interesting places to visit and the wild Florida weather is always changing the look of the surroundings.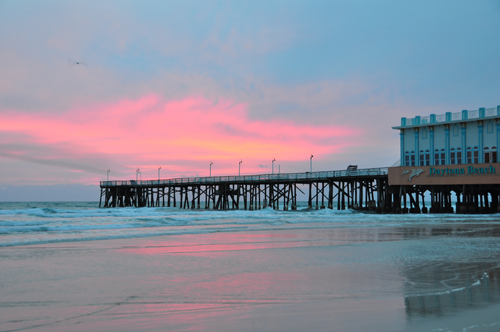 All Photo Galleries » Daytona Beach Pictures
At the time this photo was taken, the pier has plans in the work for renovation and has been idle for quite some time, but still attracts tourist.
There has long since been a restaurant on top of the pier in Daytona offering a meal with a good view of the Daytona shore.
Directly connected to the pier is the boardwalk which is also an everchanging landmark of Daytona Beach.