Daytona Beach Boardwalk Coquina Clock Tower
The historic coquina clock tower on the boardwalk in Daytona Beach, FL is one of the most recognized landmarks along with the bandshell in this area.
The recognizable coquina clock tower on the boardwalk in Daytona Beach holds an affinity with locals and has a history.
The story behind the clock tower is that in the 1920's, people felt that this area by the beach in Daytona was run down and wanted to do something to liven up the area.
Construction began in 1936 on the Bandshell in the Daytona Beach Park Complex along with other structures like the clock tower and was scheduled to be completed in 1938.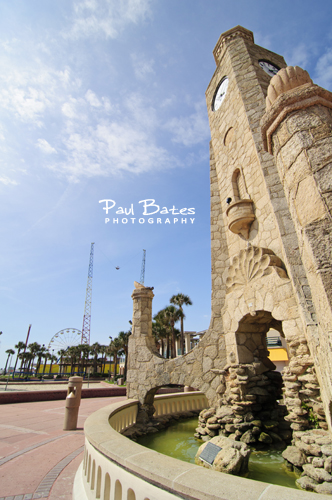 All Photo Galleries » Daytona Beach Pictures
The 4-sided clock was constructed of coquina shells and instead of having numbers for hours, each letter represents an hour spelling out the 12 characters of "DAYTONABEACH".
Originally, the clock mechanism functioned through a system of ropes and pulleys, but then in the 1980's was converted to electric where an antique clock expert named Jack Smith renovated the inner workings to get the clock tower functional again.
At the base, a fountain springs up underneath the clock and sits on top of a few steps. If you're in the Daytona Beach boardwalk area, visit the coquina clock tower just near the bandshell.