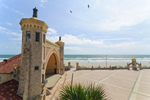 Daytona Beach Bandshell on the Boardwalk
The Daytona Beach bandshell is a historic amphitheater on the boardwalk built entirely of coquina shell from the Atlantic Ocean.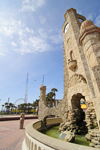 Daytona Beach Boardwalk Coquina Clock Tower
The historic coquina clock tower on the boardwalk in Daytona Beach, FL is one of the most recognized landmarks along with the bandshell in this area.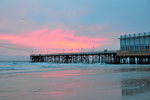 Daytona Beach Main Street Pier Sunrise
On cloudy days, a sunrise at the Daytona Beach Main Street Pier in Florida might look like this with pretty pink colors and a hidden sun behind the clouds.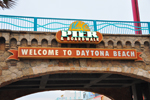 Daytona Beach Main Street Pier Boardwalk Bridge
The Daytona Beach Main Street pier & boardwalk have long been a place of interest in the area with this old coquina bridge connecting the boardwalk to the pier that proclaims "Welcome to Daytona Beach".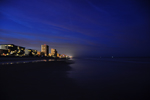 Daytona Beach Shore Hotels Condos Night
The Daytona Beach shore can be beautiful at night with the tide coming in and out and the lights of the hotels and condos glowing down the shoreline.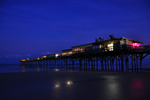 Sunglow Pier Night Stars Daytona Beach Florida
The Sunglow Pier is lit up just after dusk with twinkling stars and a deep blue sky in Daytona Beach, Florida.