Ponce Inlet Lighthouse Sherbet Orange Sky Florida
The Ponce Inlet lighthouse glows in front of a sherbet orange color sky in Ponce Inlet, Florida.
The well known Ponce Inlet lighthouse glows its normal slightly red color in front of a beautiful sherbet orange colored sky in Ponce Inlet, Florida.
When darkness falls over the sleepy little city of Ponce Inlet, the lighthouse becomes a beacon for many miles around. It can be seen well into Daytona Beach if you're standing high enough like atop the Dunlawton Bridge.
I've climbed to the top of this magnificent lighthouse and the view from the top is very nice with being able to walk 360 degrees around the platform at the top.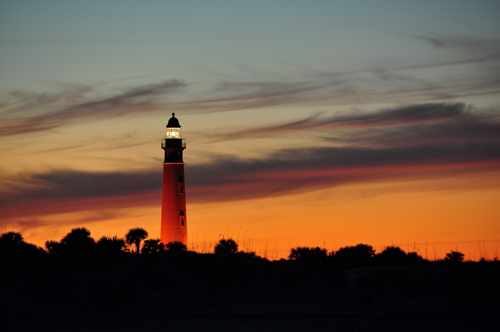 All Photo Galleries » Ponce Inlet Florida Pictures
The Ponce Inlet lighthouse was designated a National Historic landmark in 1998 and is the tallest lighthouse in Florida.
Several restaurants surround the area and it just takes about a 15 minute drive from the nearest bridge from the mainland to reach Ponce Inlet.
Be sure to add it to your list of things to do when visiting Daytona Beach!