Ponce Inlet Beach Sunset Jetty Florida
The warm sky of a colorful sunset in Ponce Inlet on the beach is making way for the cool of a Florida night.
The sky is filled with warm colors from a beautiful sunset in Ponce Inlet on the beach that's beginning to cool down as shadows descend for a cool Florida night.
This scene is set in the middle of the Ponce Inlet jetties where you can walk a good distance out into the water and see a view all the way around of New Smyrna on the left and also towards Daytona Beach on the right.
On the left just as the rocks begin to make a turn, there is a small beach that's wonderful for a good picnic or just to soak up some rays in the middle of the day.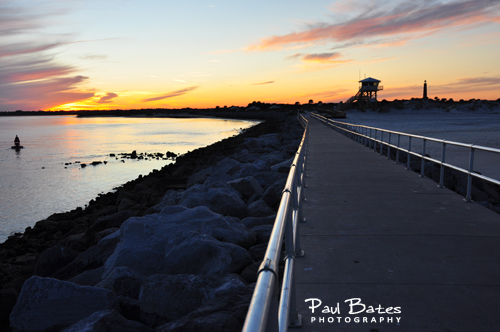 All Photo Galleries » Ponce Inlet Florida Pictures
Also seen is the darkened out lifeguard tower that by this time, the lifeguards have already long since gone home for the night.
With it getting dark, the lighthouse will come to life flashing its powerful light to be seen from several miles around to tell boaters that there's land just ahead.
Just behind me, fishermen seem to never give up the hunt and even wear headlamps at night to keep on fishing.