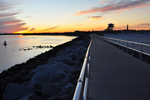 Ponce Inlet Beach Sunset Jetty Florida
The warm sky of a colorful sunset in Ponce Inlet on the beach is making way for the cool of a Florida night.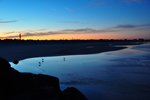 Ponce Inlet Beach Jetty 3 Birds Blue
The soft blue light from the fading sky dimly lights Ponce Inlet beach in Florida where 3 birds pick at the wet sand among the rocks of the jetty. A beautiful view of the lights of Ponce Inlet fade into the coastline.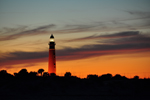 Ponce Inlet Lighthouse Sherbet Orange Sky Florida
The Ponce Inlet lighthouse glows in front of a sherbet orange color sky in Ponce Inlet, Florida.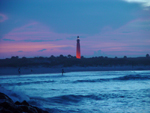 Ponce de Leon Inlet Lighthouse Dusk
The Ponce Inlet Lighthouse glows just after sunset as waves crash off the rocks at the jetties. Surfers finish up a day of surfing carrying their boards out of the water.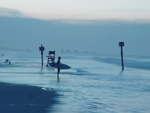 Lone Surfer Dusk Ponce Inlet Florida Beach Tide
A lone surfer on the beach at dusk with surfboard in hand looks out into the ocean at Ponce Inlet, Florida. At about this time, most beachgoers have already left the beach to go home, but surfers are a dedicated bunch.