Ponce de Leon Inlet Lighthouse Dusk
The Ponce Inlet Lighthouse glows just after sunset as waves crash off the rocks at the jetties. Surfers finish up a day of surfing carrying their boards out of the water.
The Ponce Inlet Lighthouse glows after sunset as it guides boats to safety. Surfers are finishing up their day in the water as they carry their boards off down the beach as waves crash off the jetties.
The Ponce de Leon Lighthouse was completed in 1887 and at the time, the area was actually known as "Mosquito Inlet".
One claim to fame is that this lighthouse happens to be...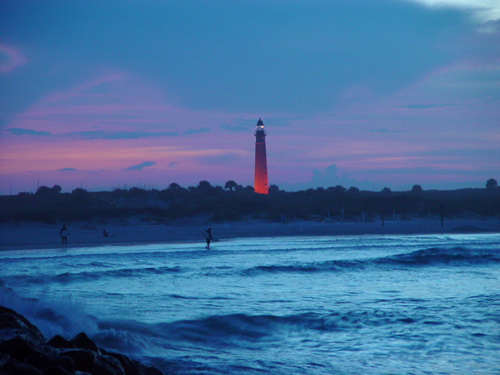 All Photo Galleries » Ponce Inlet Florida Pictures
...the tallest lighthouse in Florida and the tallest masonry lighthouse in the nation.
It's located about 15-20 minutes south of Daytona Beach and is well worth the short drive to visit it. There is a museum and several nice restaurants in the area.
The view from the top is breathtaking as the entire area is visible including the jetties and New Smyrna Beach, but it's a climb to reach the top. It stands at 175 feet tall with 203 steps to get to the platform.