Lone Surfer Dusk Ponce Inlet Florida Beach Tide
A lone surfer on the beach at dusk with surfboard in hand looks out into the ocean at Ponce Inlet, Florida. At about this time, most beachgoers have already left the beach to go home, but surfers are a dedicated bunch.
A surfer at the end of the day stands on the coast in Ponce Inlet, Florida looking out into the ocean as the tide comes in. He has his surfboard under arm and has probably had a long day riding the waves near the jetties.
The day is winding down with night approaching quickly and most beachgoers and sunbathers have already gone home as well as lifeguards from the look...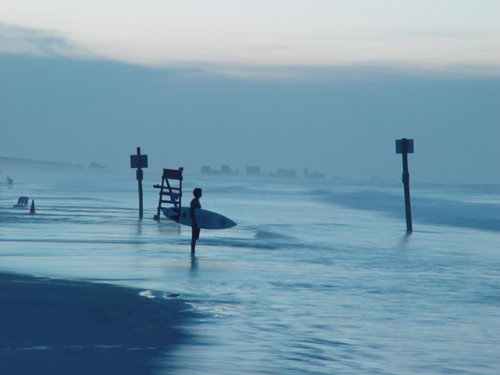 All Photo Galleries » Ponce Inlet Florida Pictures
...of the empty lifeguard tower.
Ponce Inlet, FL is just north of New Smyrna Beach and is one of the most popular areas for surfing. Its natural beauty is well known with its absence of hotels and resorts. On the north side of the jetties, you can walk out onto a paved walkway into the ocean and watch the surfers floating on their surfboards waiting to catch waves.