Punta Sur Saltwater Crocodile Cozumel
A motionless saltwater crocodile floats in the lagoon at Punta Sur in Cozumel, Mexico.
When you come to Cozumel, you can be sure to see some tropical animals but most people are surprised to see crocodiles in the salty water of the caribbean.
These are actually saltwater crocodiles that can handle the salty water and seem to prefer to hang out in this lagoon called "Crocodile Lagoon" in southern Cozumel's Punta Sur.
When visiting this area, it's almost expected that you'll see these crocodiles whether it's due to them having an abundant food supply or possibly they're fed near here to keep them lingering.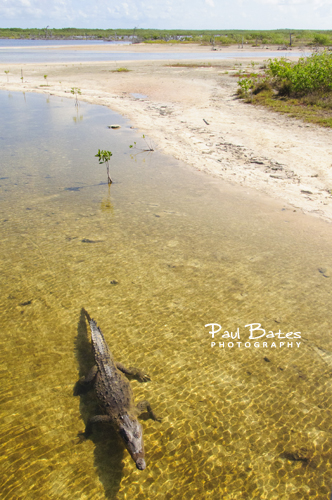 All Photo Galleries » Mexico Pictures
Saltwater crocodiles are actually the largest of all crocodiles with males reaching the length of 23 feet and females over 10 feet. Even though they predominantly live in salt water, they breed in fresh water.
A short walk away from this view is El Caracol which is a small Mayan ruin that's popular in the area.