Punta Sur Eco Park Beach Cozumel Mexico
Punta Sur Ecological Park is the southernmost point in Cozumel, Mexico and is a very popular spot for many reasons.
Punta Sur is a 247 acre ecological park that marks the southernmost point in Cozumel, Mexico.
Some things to do in Cozumel at Punta Sur would be seeing the beautiful, natural sights in the area by snorkeling or scuba diving the reefs, visiting the saltwater crocodile lagoon, or just walking down the relaxing beach.
This photo was actually taken from the Celerain lighthouse (or Faro de Celerain) which gives a spectacular view and gets very windy at this height.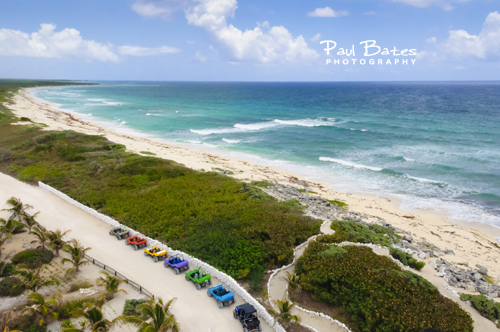 All Photo Galleries » Mexico Pictures
Since Cozumel isn't an extremely large island, Punta Sur is just a short trip by regular various means (or even exciting excursions like the dune buggies seen).
Located very close to this area are also some small Mayan ruins called Tumba del Caracol which were used as an early hurricane warning system.