Colorful Mayan Hammock Cozumel Mexico
A colorful Mayan hammock hangs on the beach from a couple tropical palm trees on the island of Cozumel, Mexico.
A relaxing, colorful Mayan hammock hangs from a couple of tropical palm trees on the beach in beautiful Cozumel, Mexico.
Mayan hammocks or "hamaca Maya" are different from the normal flat hammocks in where they are woven from multiple thin strings, making them extremely strong and exceedingly comfortable.
There really is nothing like hanging in a Mayan hammock on a beautiful beach with crystal clear water when it's warm with a nice breeze.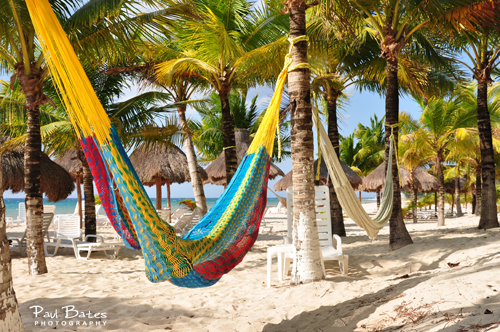 All Photo Galleries » Mexico Pictures
If you're thinking of taking a cruise to Cozumel, try to get the chance to experience this and don't forget the Mexican buffet!
Imagine a plate full of Mexican rice, beans, tortillas, fruit and a nice cold beer to wash it down and then imagine taking a siesta in a hammock.
The island of Cozumel offers multiple excursions all over the island and no matter what the weather, there's always a way to enjoy this paradise.