Pelicans Sunrise Ocean Daytona Beach Florida
Two pelicans sit on a sign in the water for a beautiful ocean sunrise in Daytona Beach, Florida. Early morning on the beach is a great time to visit to see colorful sunrises.
Two pelicans relax on a pole in the water during a beautiful sunrise in Daytona Beach, Florida. Daytona is a great place to view a sunrise since the coast goes on for miles.
When dawn approaches, the whole sky lights up and birds excitedly flutter here and there catching breakfast.
There are nice places all up and down the beach to...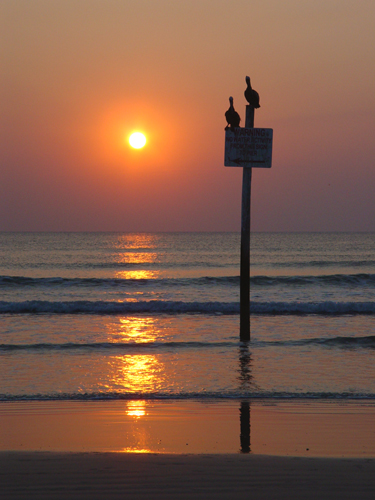 All Photo Galleries » Sunrise Pictures
...see a sunrise. My personal favorite is to be by a pier or something out in the water to contrast the intensely warm colors.
The reflection of the sun off of the ocean and the sand gives such a comforting feeling.