Hazy Sunrise Ocean Horizon Behind Clouds
An early morning hazy sunrise begins as the sun slowing begins to pick up through some clouds.
An early morning sunrise begins as the tired sun begins to pick up through some clouds over the ocean waves.
When a sunrise starts up through broken clouds, it sometimes gives it a slightly hazy look that makes for great photos.
This effect is normally seen when zooming far in with a longer telephoto lens, mine of which I'm using a 200mm zoom.
There are only a brief few seconds that you...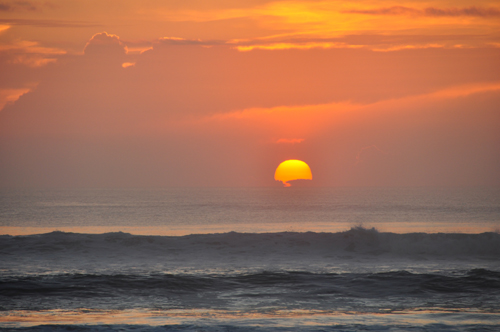 All Photo Galleries » Sunrise Pictures
...can see this because as it rises, it becomes much brighter and more blinding to the camera.
It's nice being able to see it in this stage and makes me think of the world just waking up and rolling out of bed.
It was a beautiful morning in Daytona Beach, FL.