Seagull Daytona Beach Florida Shore Ocean Sunrise
A little seagull pauses for the camera on the shore in front of a sunrise in Daytona Beach, Florida. The sky gets brighter as the sun lifts above the ocean horizon and reflects off the water.
A little seagull stands on the beach during a sunrise in Daytona Beach, Florida. There are numerous birds out in the morning catching fish and small sea creatures. People also come to feed the birds in the morning with bagfuls of popcorn and bread to stir the seagulls into a cloud.
Seeing a sunrise in Daytona is peaceful, fulfilling, and definitely worth waking up early for. It's the perfect start to a day to walk along the coast as the colors...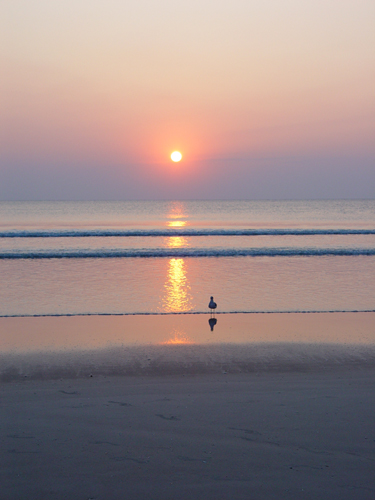 All Photo Galleries » Sunrise Pictures
...begin to change and get brighter. The air is usually a slight bit crisp and there is a salty refreshing smell to it.
The majority of morning beachgoers are out exercising by running or walking down the beach. I can't think of a better time to get your body going than in the cool morning on the beach for a sunrise.