Parthenon Nashville TN Centennial Park
View of the Parthenon in Nashville Tennessee which is a full scale replica of the original Parthenon in Athens, Greece.
The Parthenon in Nashville TN stands as a symbol for the city since the city has been long known for its nickname "The Athens of the South".
It was originally built in 1897 for the fair and was made of plaster, wood, and brick but was later rebuilt in concrete as a more stable centerpiece.
It stands as a full scale replica of the original in Athens, Greece.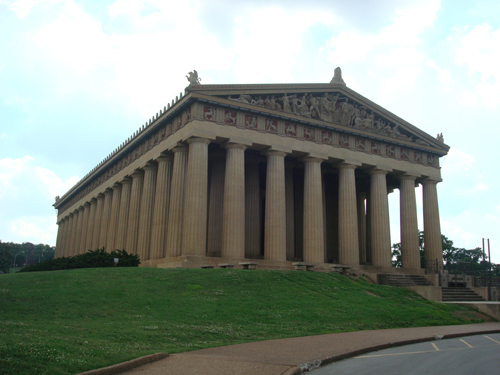 All Photo Galleries » Tennessee Pictures
The Nashville Parthenon is located in Centennial Park and also serves as a museum.
Inside the Parthenon is a statue of Athena consisting of at least 8 pounds of gold. Also in this unique museum is a permanent collection of paintings by 19th and 20th century artists which was donated.
On the outskirts of the park are beautiful plains of grass to have a picnic and relaxing swings amid the sparsely placed trees.