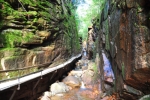 Suspended Wooden Path Over Stream Franconia Notch NH
A suspended wooden path is attached to the wall just over a stream at Franconia Notch, NH.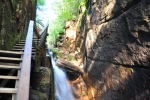 Wooden Walkway Waterfall Flume Gorge NH
A wooden walkway ascends on the rock face near a waterfall at Flume Gorge, Franconia State Park.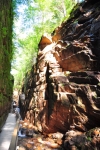 Flume Gorge Rock Formation
The Flume Gorge rock formation is a natural occurance of solid granite at the base of Mount Liberty discovered in 1808.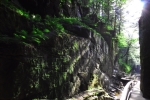 Fantasy Shadowy Chasm Flume Gorge NH
The shadows from the sun begin to enshroud the dream like chasm at Flume Gorge in New Hampshire.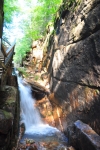 Waterfall Franconia Notch State Park NH
A waterfall rushes down a stream through the Flume Gorge at Franconia Notch State Park in New Hampshire.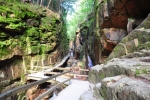 Flume Gorge New Hampshire
The Flume Gorge in New Hampshire is high on my "things to see" on my list of beautiful State Parks.