Engagement Proposal Sunrise on the Beach
For my engagement proposal to Sarah, this was the most beautiful sunrise I had ever seen and it made the perfect backdrop for popping the question.
When thinking of how to pop the question to my longtime girlfriend, Sarah, I tried to think of the most romantic place that would feel natural and magical at the same time.
What could be more romantic than the beach? And the best time of day I thought of was sunrise so that we'd have the rest of the day to bask in the glow of the moment.
The air was slightly chilly and it seemed like the sun might be blocked behind clouds but this turned out to be the perfect time to see a sunrise!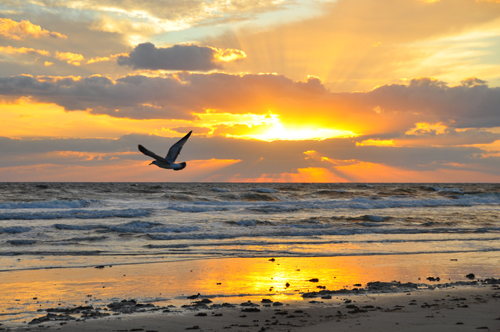 All Photo Galleries » Sunrise Pictures
Sun rays beamed through the clouds while the waves rushed back and forth. Several seagulls and pelicans flew overhead while the sun slowly started peaking its way above the cloud line.
It's so nice that I enjoy photography so much because it gave me the perfect excuse to set up a tripod and get the whole thing on tape without her suspecting a thing!
After the beautiful sunrise, I proposed on the beach and got the "yes" that I was looking for. What a beautiful morning sealed in memory with these incredible pictures.