Navy F/A-18E/F F-18 Super Hornet Daytona Beach FL
The Navy's tactical F/A-18E/F Super Hornet flies by with vapor on the wings in Daytona Beach FL at the Embry Riddle Wings & Waves show.
Every year in Daytona Beach, Florida there has been held the Embry Riddle Wings & Waves show around October right on the beach for all to see.
The Navy's newest tactical aircraft being shown off is the F/A-18E/F Super Hornet featuring the Strike Fighter Squadron 106 (VFA-106).
The F-18 demonstration featured many low and high speed flybys showing off some of the landing gear as well as its tactical maneuvering capabilities.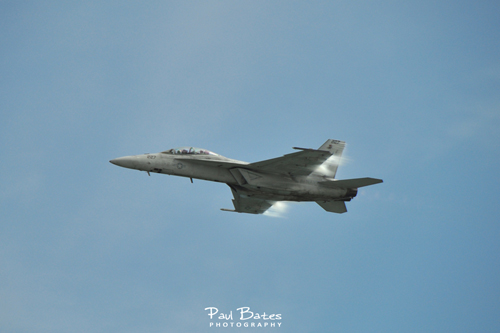 All Photo Galleries » Fighter Jet Pictures
The Navy's F-18 Super Hornet is built to be a very effective fighter and bomber capable of multiple mission requirements.
It was designed for future technology in mind with 17 cubic feet of "growth space" to be able to be upgraded with newer electronic devices.
When this aircraft is really moving, you can be sure to hear it scream across the sky and in this shot, I caught some vapor forming off of the trailing edges of the wings.