F-16 Fighting Falcons Formation Airshow American Flag
A formation of F-16 Fighting Falcons fly just behind an American flag blowing in the wind.
Four F-16 Fighting Falcon fighter jets fly in formation just behind an American flag at an airshow.
The success of the Fighting Falcon has been one major reason why 25 nations have chosen them to be a part of their air force.
The U.S. Air Force no longer buys them but later versions are still be produced for export.
To have them line up for this beautiful shot...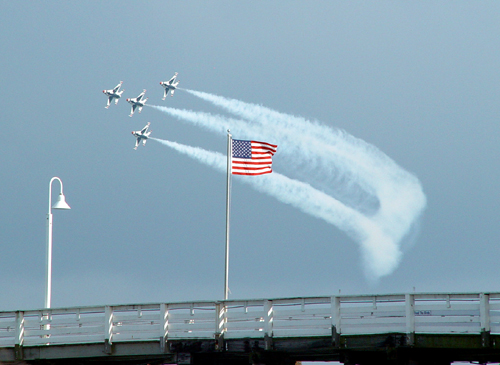 All Photo Galleries » Fighter Jet Pictures
...was pretty amazing as I was about to just shoot a picture of the flag and they happened to make a turn at just the right time.
I guess we all get lucky here and there.
These F-16's did put on a great show and many people showed up on the beach to see the action.