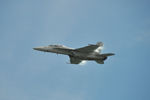 Navy F/A-18E/F F-18 Super Hornet Daytona Beach FL
The Navy's tactical F/A-18E/F Super Hornet flies by with vapor on the wings in Daytona Beach FL at the Embry Riddle Wings & Waves show.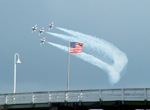 F-16 Fighting Falcons Formation Airshow American Flag
A formation of F-16 Fighting Falcons fly just behind an American flag blowing in the wind.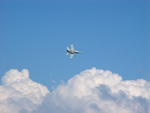 F/A-18 Hornet Fighter Jet Clouds Sky Bottom
An F/A-18 Hornet fighter jet takes a hard turn in the sky among the clouds in this bottom view. This jet is the aerial demonstration aircraft used by the "Blue Angels" squadron.