Hopewell Flowerpot Rocks High Tide New Brunswick
Rocks are stacked near the shore at high tide at the Hopewell Rocks or "Flowerpot Rocks" in Hopewell Cape, New Brunswick.
The Hopewell Rocks in the Bay of Fundy, New Brunswick is an entertaining place to be at high tide.
Before visiting, be sure to check the tide tables for the Hopewell Rocks found on their website at Hopewell Rocks.
Since the tides vary so much from high to low tide (an amazing 52 feet), some of the park rangers have made a tradition out of stacking rocks and drawing in the sand as the tide comes in.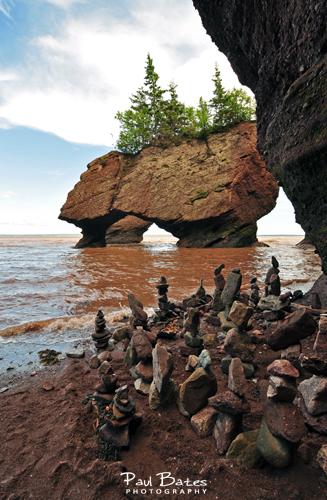 All Photo Galleries » New Brunswick Pictures
As seen here, several piles of rocks are stacked and creative lines are drawn in the sand which will be washed away as soon as the tide starts rolling in.
When I had visited, as soon as the waves start to reach the first pile of rocks and as soon as they fall, then visitors are escorted off of the beach.
A pile of rocks is nothing too special, but when you can watch it get covered by the incoming tide in a matter of minutes, it becomes something fun.