Dickson Falls Fundy National Park New Brunswick
Water flows over the cascading waterfall of Dickson Falls in Fundy National Park in New Brunswick, Canada.
Fundy National Park in New Brunswick, Canada, has several waterfalls, one of which shown below is Dickson Falls or Chutes Dickson.
It's not an extremely large waterfall, but Dickson Falls is an easy to get to waterfall just off the main road in Fundy National Park.
The hike is about 1 mile through the forest on an easy path that leads to a wooden viewing platform in a great spot at the base.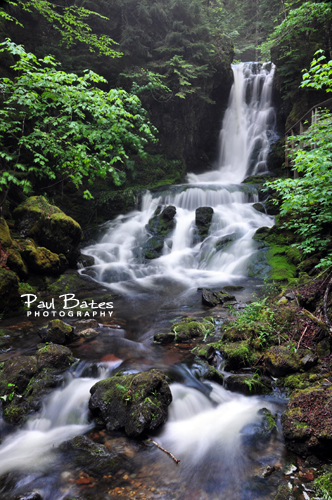 All Photo Galleries » New Brunswick Pictures
I was fortunate enough to get some shots of it on a cloudy day, making it easy to setup the tripod and avoid the bright reflections on the water.
There are a couple of ways to get to the base of Dickson Falls, one being more strenuous than the other but still not too bad.
This visit to the park was in the summertime so early afternoon wasn't too bad of a problem with mosquitoes, but they were still around. Another beautiful day with another beautiful waterfall.