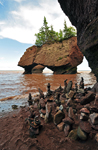 Hopewell Flowerpot Rocks High Tide New Brunswick
Rocks are stacked near the shore at high tide at the Hopewell Rocks or "Flowerpot Rocks" in Hopewell Cape, New Brunswick.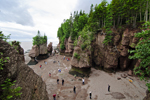 Hopewell Rocks Flower Pots New Brunswick Canada
People walk around exploring the Hopewell Rocks, New Brunswick, Canada also known as the Flowerpot Rocks in Hopewell Cape.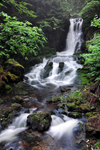 Dickson Falls Fundy National Park New Brunswick
Water flows over the cascading waterfall of Dickson Falls in Fundy National Park in New Brunswick, Canada.