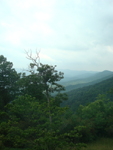 Blue Ridge Mountains Lodge View Top
The view of the Blue Ridge Mountains from the lodge on top of Amicalola Falls is spectacular. Each mountain top is shaded slightly different than the next.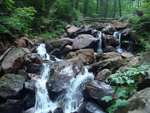 Amicalola Falls Georgia Mid Stream Waterfall
From the bottom of Amicalola Falls at Reflection Pool there is a trail that winds up sharply along a stream midway that cascades from the main waterfall several hundred feet above.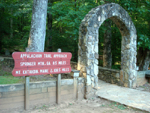 Appalachian Trail Approach Springer Mountain Georgia
The Appalachian Trail approach at Springer Mountain in Georgia is a beautiful area to either begin a thru hike on the 2100 plus mile Appalachian Trail and also just to nice place to visit.