Sea Kayak On Beach Sand Captiva Island
A sea kayak rests on the sand at Captiva Island in Florida after sunset.
A sea kayak rests onshore at the bottom of Captiva Island in Florida just after sunset.
There are many things to do on nearby Sanibel Island as well as Captiva island such as exploring the many bayous the islands have to offer.
This means you can either hike around the natural sanctuaries, drive by car, or go straight through them by using ocean kayaks.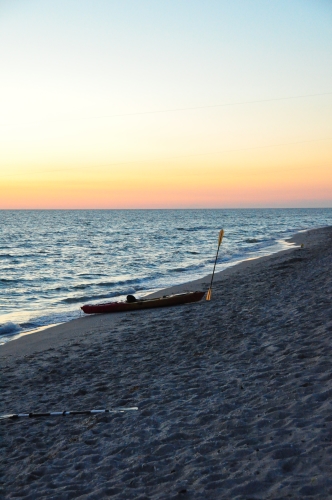 All Photo Galleries » Captiva Island Pictures
Using an ocean kayak means going straight to where the wildlife is so it immerses you right in the environment.
There's a large amount of aquatic bird life to see on the island such as pelicans, great egrets, and seagulls to name a few and this is one of the best ways to get up close to view them.
If you don't want to bring your own, there are tours offered on the islands for a small fee or you will be able to just rent them on your own.