Runner Sunset Delight Bridge Daytona Beach FL
A runner is jogging alone down the Dunlawton Bridge during a beautiful orange sunset in Daytona Beach, FL.
In the afternoon, many people love jogging in Daytona for the beautiful scenery and smell of the fresh salty air.
This jogger is slowly sinking on the other side of the bridge just as the sunset turns a brilliant orange color.
Just about every day, there are people who love walking or running up the bridge for a little exercise while also getting a nice view of the sun setting on the horizon.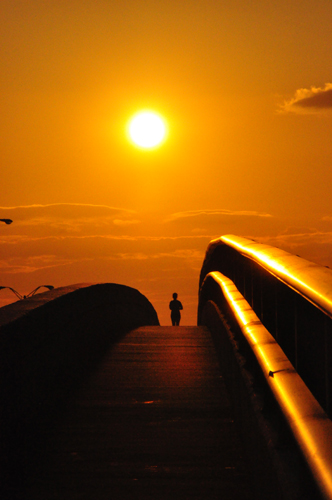 All Photo Galleries » Sunset Pictures
The Dunlawton Bridge in Daytona Beach is special in that when you reach the top, you can see the Halifax River below you as well as the Atlantic Ocean only a short walk away.
Also in view when you're on top of the bridge is the Ponce Inlet lighthouse from afar. At night the light blinks as it makes its way around the top.
I could probably sit up there for a good 45 minutes just watching boats go underneath and the fishing piers just below. It's a relaxing way to spend part of the afternoon.