Daytona Beach Halifax River Tropical Palm Tree Sunset
Daytona Beach can have magnificent and beautiful sunsets with vibrant tropical colors of orange, blue, red, and purple filling the sky when the time and weather are just right. The Halifax River lies between mainland Daytona Beach and beachside where boats of all kinds run up and down the intercoastal.
Beautiful sunsets in Daytona Beach can consist of a blue sky filled with orange, red, and purple colors if you catch it when the time and weather are just right. All along the intercoastal are big expensive homes with tropical palm trees and long piers that lead hundreds of feet out into the water which give the perfect view of calming sunset scenery.
Boats run up and down the river and can be seen parking out in water when the sun begins to go down. Sitting on a dock with the warm breeze...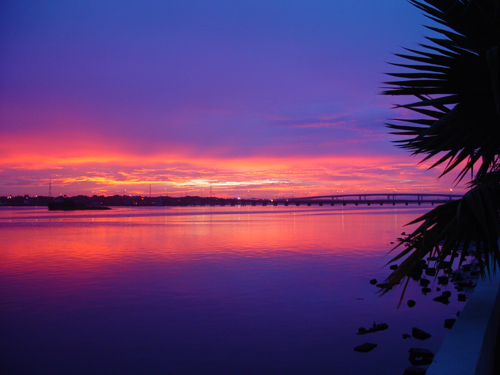 All Photo Galleries » Sunset Pictures
...over the river is quite an experience to have. Occasionally schools of dolphins make their way down the river for fish giving a great show to anyone that happens to be there to witness it.
At dusk the colors begin to fade from a warm, bright to darker hues and the sunset slips away to the west over the river. To the east the beach goes to sleep with only a few lone people walking the coast.