Cliffs South of Sand Beach Park Loop Road Acadia Maine
While walking along Park Loop Road just south of Sand Beach in Acadia National Park, you will give you some great scenic views of majestic cliffs along the water.
If you're looking for scenic views of cliffs along the water, then Acadia National Park in Maine is just where you want to go.
The 27 mile Park Loop road winds around from beautiful spot to beautiful spot and the cliffs in this picture and many others can be found along this great stretch of road.
Along this stretch, you can either drive or walk from Sand Beach down to the southern part of the island past Thunder Hole and all the way you'll see cliffs and boulders meeting the crashing waves.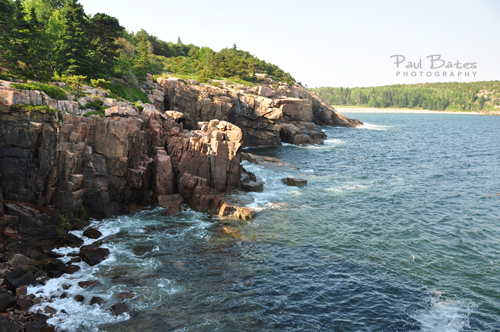 All Photo Galleries » Maine Pictures
This bit of scenery is located right in between Sand Beach and Thunder Hole hidden behind trees and brush along a small path that leads out from the road to the edge of the water.
Further south than this is Thunder Hole that brings in a large amount of people to hear the sound it makes when the waves come in and fill up a hole in between large rocks.
Even further south than that lies is Otter Cliff and Otter Cove, but anywhere along Park Loop Road are beautiful views to be found. Acadia National Park just keeps delivering.