Cadillac Mountain Summit View Acadia National Park Maine
The spectacular view from the summit of Cadillac Mountain in Acadia National Park in Maine is one of the many highlights of the park and is well worth the trip up the winding roads.
Cadillac Mountain is located in Acadia National Park which is also located on Mount Desert Island in the city of Bar Harbor.
Being the highest point on the North Atlantic seaboard, it stands at around an impressive 1,528 feet (570 meters) and gives people who journey to the top breathtaking views of the surrounding park.
On Cadillac Mountain there are several hiking trails to reach the top and also a very nice 3.5 mile paved road off of Park Loop Road to drive to the top.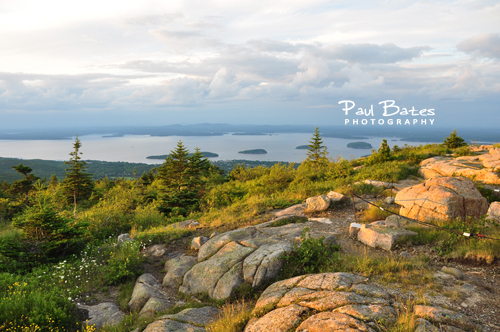 All Photo Galleries » Maine Pictures
If you're visiting Acadia National Park, I would say you should drive to the top of Cadillac Mountain each night to see the sunset because it's different every time.
This view is just off to the side of a sunset where you can just see some of the colors of the sunset reflecting off of the rocks.
One interesting side note is during certain months of the year (Oct. 7th - Mar. 6th), Cadillac Mountain is the first place in the United States to get the rays from the sun during a sunrise.