Yellow White & Purple Hawaiian Plumeria Flower Plant Florida
A fragrant yellow, white, and purple Hawaiian plumeria flower holds onto droplets of water after a rain. Plumeria plants grow very well in the tropics and are seen over much of mid and southern Florida.
A colorful yellow, white, and purple Hawaiian plumeria flower is wet from a Florida rain. These tropical plants are very fragrant with some of them having a very strong and pleasant scent. There are several varieties of colors and smells that plumerias can be categorized in.
Growing plumerias in Florida is extremely easy as all they need...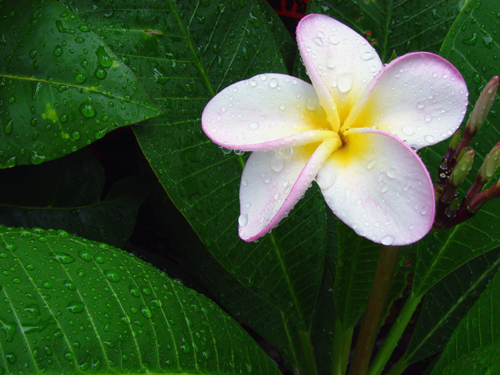 All Photo Galleries » Flower Pictures
...is sunshine and very little water.
Lovely traditional Hawaiian leis are commonly made from fresh plumeria flowers that are strung through thick fishing line. Since the plants grow fast and produce flowers so often, it's very easy for one large plant to have enough for a beautiful lei.
The wonderful scent of these flowers is very addicting.