Sun Couple Silhouette Love Hugging Sanibel Island Sunset
An in love couple share a silhouette from the sun and hold each other close on the beach at Sanibel Island for a sunset.
A couple in love are are silhouetted by the sun while hugging on the beach at Sanibel Island, Florida.
The sunset at Sanibel Island is warm and beautiful and when you're close to someone during such a beautiful event, it's hard not to draw close.
This is Bowman's Beach. A natural, shell-filled beach with nice sand that attracts people daily for the views of the sun going to bed.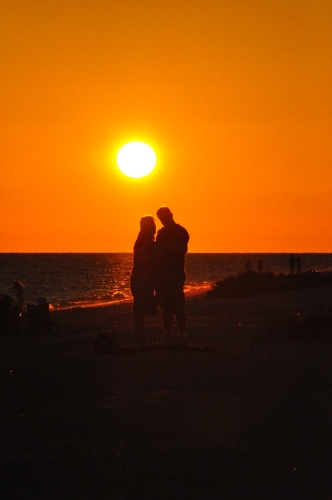 All Photo Galleries » Sanibel Island Pictures
If you're a romantic and want to spark the embers of love, then Sanibel Island is a great place to venture off to.
It's secluded, natural, has a lot of parks and there are bicycles everywhere! Most of the hotels offer free bike rentals so take them up on the offer and pedal out with your mate.
Stop by a local grocery on bike, get something great for a picnic, and head to the beach for a nice show!