Stingray City Grand Cayman Islands
Stingray City off of Grand Cayman in the Cayman Islands is just short distance off shore by boat excursion to a series of shallow sandbars where stingrays are found in abundance in crystal clear water.
Stingray City lies just off of Grand Cayman in the Cayman Islands and is a series of shallow sandbars in crystal clear water where stingrays congregate in mass.
If I had to review the excursion to Stingray City, I'd give it high marks for a variety of reasons including the scenic boat trip out to the sandbar, water that doesn't get much clearer that that found here, and very docile stingrays that swarm up to the boats when they arrive.
Visitors to Stingray City from the excursion that I took get to feed a small portion of food to the stingrays by holding it below a stingray who is passing by. The stingray then uses its powerful mouth and sucks it right out of your hand no matter how hard you hold it.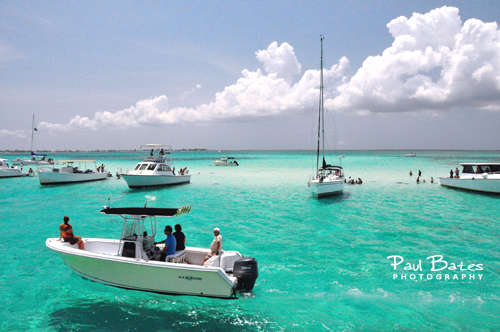 All Photo Galleries » Cayman Islands Pictures
This sucking force is so powerful that stingrays can suck a mollusk right out of its shell to eat.
Most tourists get equipped with snorkels and masks to see the stingrays underwater and even get to hold one as it swims up. Supposedly, local legends have it that if you kiss a stingray on the nose, you get 3 years of good luck.
Among other things sea life found here, you can also find large mollusks still in their walking around the sea floor in their shell. This place is definitely a must see when it the Cayman Islands.