Martian Red Moon Rising Beach Florida
A Martian looking red moon rises over the ocean turning the beach sand a reddish color.
A red moonrise is shown coming up over the ocean turning the beach sand red.
Sometimes when the moon rises in the middle of the night, it can come up with an eerie looking ominous blood red color.
Most of the time this has taken me off guard but when I go out to actually see it come up and it's red, it makes for very different pictures.
Usually when the moon starts to come up over the horizon...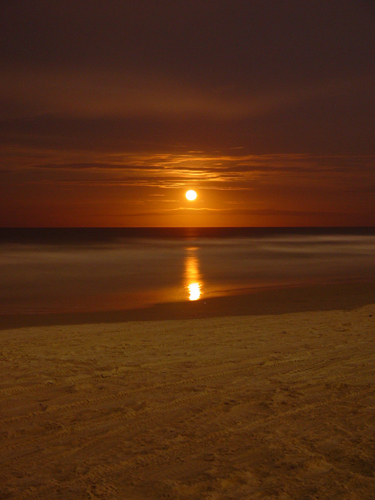 All Photo Galleries » Moon Pictures
...it lights everything to a bright white & yellowish color, but to give some credence to old folklore, it really does look like a blood red moon.
Once it makes its way into the sky though, it normally sheds that tint and starts to shine the way everyone thinks of it.
Since I know the color really doesn't mean anything, it's just another way the moon comes up, but for a split second it still gives me that creepy feeling.