Lightning Bolt Strike River Palm Trees Daytona Beach Florida
A bright bolt of lightning strikes over the river in Daytona Beach, Florida. The intense electricity from the thunderstorm covers the sky while silhouetting tropical palm trees near a dock in the water.
A powerful thunderstorm emits a bright bolt of lightning over the river in Daytona Beach, Florida. As the lightning strike spreads across the sky, it silhouettes palm trees and a dock out in the water.
During the rainy season in Florida which extends anywhere from around June to September, lightning strikes are common and can be seen on a regular basis.
Some nights there are storms in the distance which are not very powerful but where lightning can be...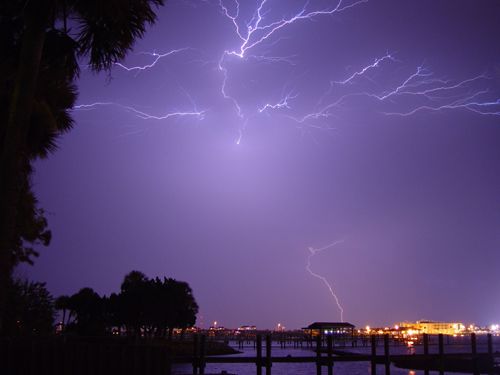 All Photo Galleries » Lightning Pictures
...seen for hours on end.
These are my favorite nights because it gives me a chance to get out and see a spectacular show without getting too close.
Other times when the storm is right overhead is definitely not a good time to get out of the house unless you want to put yourself at risk for being struck by lightning.