Green Iguana Lizard Reptile On Leaf
A green iguana lizard gives a glance at the camera while sitting on a leaf just after a rain. Iguanas are herbivorous and native to Central and South America.
A green iguana sits on a wet leaf after a rain and gives an eye to the camera. Iguanas are popular as pets because of their good temperament and attractive colors, but are challenging to care for. As long as they are well taken care of, they can live more or less of up to around a decade.
If they become frightened, they will...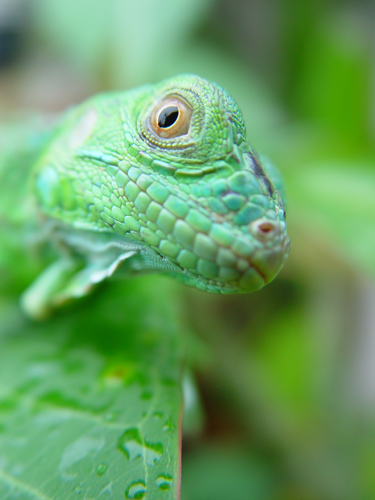 All Photo Galleries » Reptile Pictures
...try to flee the area as a first reaction and then if cornered they will hiss and use their tail and claws to defend themselves.
Their diet consists primarily of vegetation such as leaves, flowers and fruit. Some owners mistakenly think that they are meat eaters and give them meat. If given the opportunity, they will eat it but will die prematurely of kidney failure.
In the wild, they are a beautiful reptile to behold.